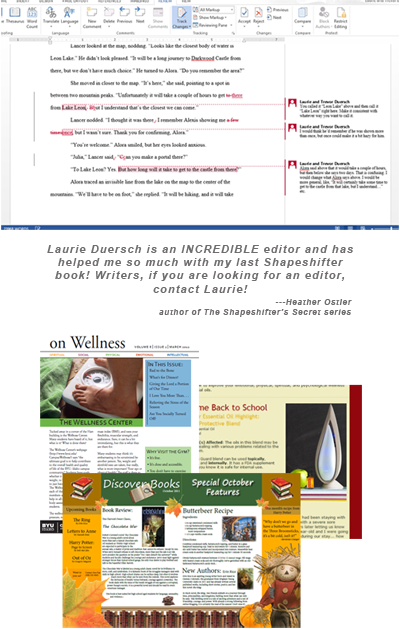 Content Creation and Editing Laurie works with her husband, Trevor, in their side business, Twosome Solutions, contributing her editing and writing skills. Laurie has worked with multiple media, such as:
Editing novel manuscripts
Editing memoirs/nonfiction
Editing and preparing book design/layout of print books and eBooks
Website copy/publishing
Copywriting/copyediting
Web content writing
Newsletter writing/editing/design
SEO (Search Engine Optimization)
Advertisements (written, visual, and radio broadcasts)
Laurie strives to give customers affordable prices for the services she provides.
Book/manuscript editing with content, syntax, and line editing services are her specialty. With manuscripts formatted in 12pt font, Times New Roman, and double-spaced with 1″ margins, rates usually run around $2.5 per page.
For other services within her skill set, Laurie normally charges around $20/hour, or prices can also be set by the project and according to project budget.
For questions in more specific pricing and availability for projects, please email Laurie at: laurie@twosomesolutions.com or see her LinkedIn Profile.